Asafotufiam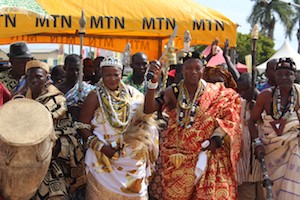 The Asafotufiam festival is a festival celebrated by the Ada people of Ghana. This festival is celebrated in the first week of August. The word 'Asafotufiam' comes from the word 'Asafotufiami' which in Dangme means 'Divisional Firing of Musketry'.
During the establishment of Ada the people had to fight many wars including:
The Battle of Nonobe – 1750
War with Anglo – 1769
Unsuccessful invasion by Anglo – 1770
Anglo attacked Ada and burnt down the township – 1776
Katamanso – 1826
Glover War – 1876
After many of these wars, the warriors who fought bravely were welcomed home with a number of traditional activities including:
A State Welcome Ceremony
March through the Volta riverside where there would be the firing of musketary ritual
Feet and hand washing where the evils of war and suffering would be washed away
As the wars ended and no longer became a part of Ada life, there was no need to continue the welcoming home of warriors ritual. However the people of Ada felt that they still needed to commemorate the founding fathers and the Ancestors who fought bravely and lost their lives for the establishment of Ada. As a result the welcoming ceremony used by the people of Ada to welcome back the warriors of war was adapted in the early 20th century and became the Asafotufiam festival as we know it.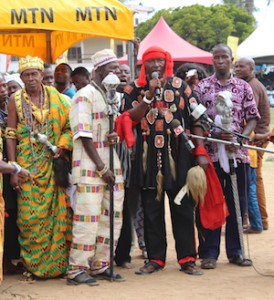 As well as the traditional events, the activities that take place  now include:
Home Coming of Ada people –The welcome of arrivals happens on the last Thursday of August. Purification rituals are then performed by the elders at home.
An announcement is made using the war drums. Early dawn on Friday the two main asafo war dancers of Akofode and Asorkor parade through the town drumming. They then visit the homes of the war captains to stage the dance.
Display at the Old Battlefield 'Aplenaver'. The display includes:
• Musketry firing
• Drumming
• Singing of war songs
This will continue to the early afternoon when the Priests then pour libation.
Welcome Back – those who displayed at the Old Battlefield will return to the paramount chief seated at 'Lenobinya' who will then welcome his people from the battlefield ritual.
Procession to Kpomkpompanya – This place is where the warriors used to depart to war by boat, and also where they landed when returning from war. When the people arrive at Kpomkpompanya rituals are performed such as:
o The pouring of libation
o Musketry fired over the water
o Feet and hand washing
Once this ritual is done, the people return home for the durbar which occurs the following day.