Ga Homowo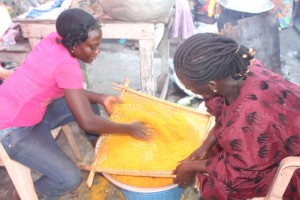 The term Homowo translates as 'Hooting at hunger'. This festival is a celebration of  remembrance and a new year celebration – the Ga new year starting in September.
The Ga people experienced a severe famine. Many people and cattle died.  After a series of prayers and meditation the Ga people had a bumper harvest.  That year the people celebrated and marked the celebration every year.
The dates for Homowo are calculated by the Dantu wulomo according to the Ga 13 Month Calendar. Each house celebrates in the order of which they arrived in Ga. How Homowo is marked by the various groups in Ga varies but all have the following activities:
Ban on Noisemaking – During this period the people are expected to meditate and pray. The Priests will also carry out certain rituals in the hope that the millet that has been planted during the Nmaa Dumo will grow. During this time there is no drumming and no one can be buried.
Day of return – When it's time for Homowo the people must return to their fathers land. In Ga Mashie this day is called Soobii (Thursdays children) as the return happens on a Thursday – the day before Homowo in Ga Mashie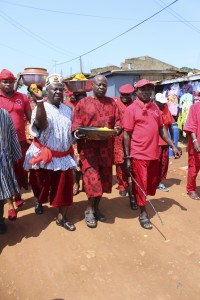 Sprinkling of Kpokpoi – On the day of Homowo people cook the holy food of Kpokpoi and it is sprinkled around the town. This is for two reasons:
Sprinkling on the ground is an act of remembrance to those who died during the original famine and also the year before before the Homowo in question.
The animals also suffered and the Kpokpoi  sprinkled is also used for the animals to eat and enjoy.
There are other times that sprinkling is done, but this depends on the town. For example Nungua have a day where the sprinkle Kpokpoi on the graves of the royal ancestors.
During the Homowo day the food is plentiful and anyone can go into any family house and eat.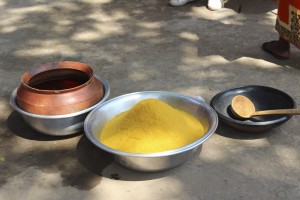 Ngorwala – This is the day of the Homowo Day where any disagreement is settled. It's the start of the new year and so no animosity can be carried into the new year. Any family or friendship disputes are settled and forgiven.
There are many other events that take place during this period that vary from group to group and this includes the Kpashimo for which Teshie is famous for. The Gbemlilaa and Aloomi Dzoomor of La and the Odadao where the ban is lifted in Gbese.
Video on the La Homowo by Gabriel Obodai Torgbor-Ashong