Krobo Ngmayem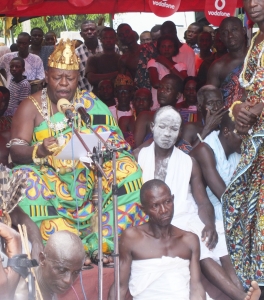 The Ngmayem Festival is a harvest festival celebrated by a couple Dangme groups, namely the Shai and Manya Krobo. Ngmayem means 'Eating the New Millet'. Millet being the staple food of the Krobo. in fact its growth cycle informs the Dangme Calendar.
Ngmayem Events
Visit to the Royal Cemetary – The Nmayem starts with this ritual. The Asafoatsemei join the chiefs to pour libation at the Royal Mausoleum. The purpose is to remember and honour the ancestors. Women are unable to participate in this particular ritual.
On returning the chiefs and the Asafoatsemei are welcomed by the community – including the women. The welcome is a serious affair and you will often find the women singing and waving clothes and branches as well as displays from the Asafoatsemei.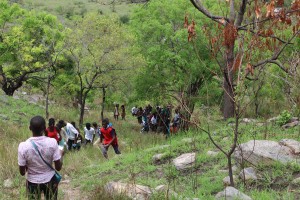 Pilgrimage to the Krobo Mountain – The next stage is the pilgrimage to the Krobo Mountain. There are rituals performed to 'open' the mountain by the priests and Chiefs – This is however done early in the day and in secret. The Mountain is then officially open for the general population to make the pilgrimage. However most people start arriving in the early afternoon. On descending the Mountain there is plenty of entertainment that will go right into the late evening.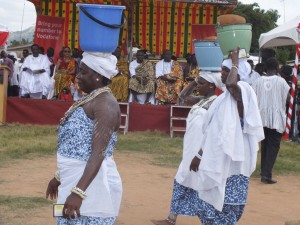 Grand Durbar – This will commence on the Friday/Saturday. Here the various chiefs of the Town will be present and the Millet will be shared by the priests. You will find a number of ritual dances and Klama songs played by various groups in the community – such as the Priestesses and the Dipo Girls. There will also be an Address by the Konor to the whole community. At the end of the Durbar the chiefs will be transported to their respective homes in Grand Style.