La Muɔmi and La Pomi
1. La Muɔmi – Tying the La String.
When the child is named, it is then that the child is accepted as a member of the house. This would be done during the outdoing ceremony. In Krobo culture the name is given and sealed during what is called the La Muɔmi.
As the name is mentioned a La string made of Raffia fibre called Hlɔwe is tied to the arm of the child by an elderly woman. On the righthand if its a boy and the lefthand if its a girl. As she ties this string she will say to the child "Otse [onɛnɛ or onana] la nɛ ikɛmuɔ mo dzi nɔ nɛ konɛ owe" meaning "This is the La string which i tie to your wrist on behalf of your father [grandfather or your grandmother] that you may grow up". The bracelet is made of 3 Beads. The names and meanings are explained below:
Tovi (Black bead) This tells the child that there is evil in society and it should avoid and not become part of it.
Nyoli (White Bead) This tells the child that there is light and good in society and the child should reflect that.
Kɔle (Blue Bead) The blue is an expensive bead and is considered precious by the Krobo people. It represents the values of the Krobo and tells the child to become precious to the community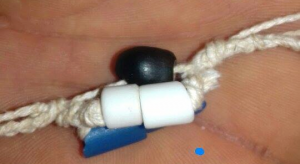 2. La Pomi – Cutting La 
When a man has a child with a woman and is not married to the woman, the children belong to the woman. The child would be named according to the womans family and the La string would be tied by the family – sealing the ownership. If the man then decides he wants to take ownership of the children, he has to cut the seal put on by the womans family during the La Muɔmi performed by them. This is done through the La Pomi ceremony and will then allow the man to claim and rename the children according to his line.
This ceremony takes place in the woman's house and the mans family have to bring a castrated sheep and a bottle of alcohol (its usually schnapps) to the house of the woman. The sheep is slaughtered and one of the legs is given to the husband in appreciation.